As most of us would be aware, Australia is prone to experiencing bushfires. And as BIG4 has parks dotted all over the country, it's a given that we have a presence in regions where bushfires can hit.
Whether you're travelling to, from, or within your holiday destination, we want you to have fun and enjoy your travels but to be safe at the same time. And while the safety of our guests is paramount at any time of year, the need to stress vigilance is heightened during bushfire season.
Yet there's no need to be alarmed; rather, it's about preparation and education. So we've put together a list of essential bushfire safety tips for you to follow, with important input from fire authorities.
1. Pack essential items
While there's a lot to think about when packing for your holidays, it's important to spare a couple of minutes to throw in a few essential items if travelling in a bushfire-prone area. The Western Australia Department of Fire and Emergency Services (DFES) recommends that during bushfire season you pack a survival kit with the following items:
AM/FM portable radio

Spare batteries

First aid kit

Woollen blankets

Drinking water

Protective clothing (long-sleeved cotton tops, pants, hats, and sturdy shoes)

A map of the local area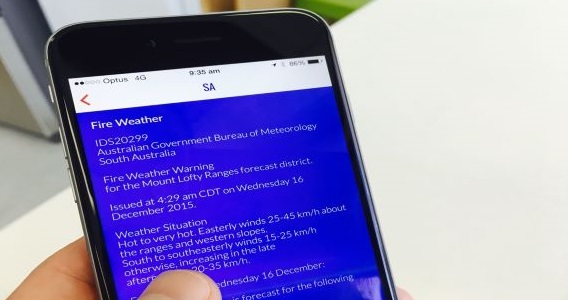 When checking the weather forecast, take a look for any fire warnings while you're at it.
2. Monitor weather forecasts
Checking weather forecasts is something you're likely to do in the lead up to and during your holiday anyway; probably to see if there's any rain on the horizon that might jeopardise your outdoor plans. Yet in areas susceptible to bushfires, keeping an eye on weather forecasts takes on a more serious tone. Note any fire warnings, and be flexible with your travel plans if required.
Tasmania Fire Service spokesman Peter Middleton has some simple advice if you're unsure what to do if you face a bushfire threat.
"Leaving early is always the safest option when a bushfire threatens. Fewer lives will be lost if people who choose to leave do so well before a bushfire threatens," he said.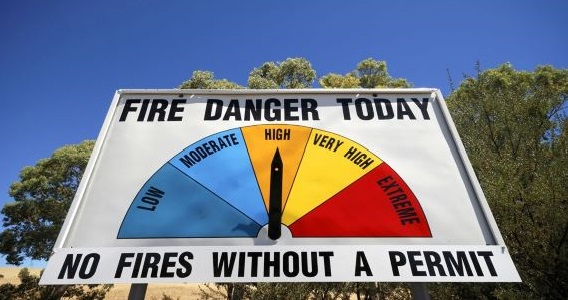 Make a note of the fire danger rating in the region or regions you are travelling in.
3. Be aware of fire danger ratings
Following the above point, it pays to know the fire danger rating in the region or regions you are travelling in.
Check the website of the country fire authority/service in the state or states applicable to your journey prior to and during travel, or watch for roadside signs. While the terminology of these fire danger ratings differs between states, generally there are six different ratings that range from 'low moderate' to 'catastrophic' or 'code red'.
Country Fire Authority Victoria best outlines what each rating means to you when on your travels.
In addition, Western Australia DFES spokesman, Mark Graham, offers further advice if the higher ratings are in place.
"On these days, it is better to visit safe places such as cities and towns," he said.
"If you plan to visit a place that is in a bushfire risk area, be prepared to change your travel plans at short notice should a fire start. And always advise your family of your travel plans."
4. Fire bans
In addition, be aware of any fire bans – including total fire bans – in areas you are travelling through or staying in. In the case of a total fire ban, there are important restrictions regarding lighting of fires in open areas, among other limitations.
The Western Australia DFES has a great FAQs section that details what you can and can't do during a total fire ban, including restrictions around the use of barbecues. The South Australian Country Fire Service also offers easy-to-follow FAQs.
In addition, ask BIG4 staff if there are any restrictions that apply within the park you are staying at.
5. Jot down bushfire information line numbers
It's also worth noting the bushfire information line phone number that is applicable to the state or states you are travelling in. A call to these numbers provides general bushfire advice.
VIC: 1800 240 667
WA: 13 3337
SA: 1300 362 361
TAS: 1800 000 699
QLD: ruralfire.qld.gov.au (no general information line available)
NSW: 1800 679 737
ACT: 13 22 81
NT: www.lrm.nt.gov.au/corporate/contacts (find the region relevant to you)
Of course, in emergency situations simply dial 000.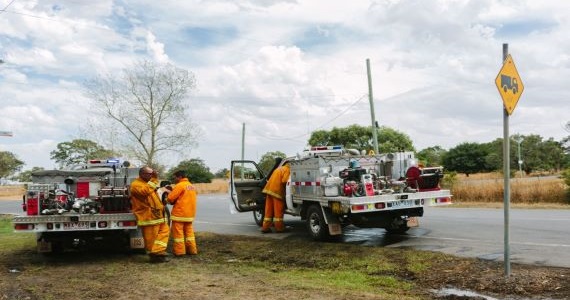 Fire crews do a great job combatting bushfires each summer.
6. Don't panic
If you do find yourself driving within a bushfire-affected area, it's important to be as calm as possible. Western Australia DFES's Mark Graham has sound advice if you are on the road and in the vicinity of a bushfire.
"If you see smoke and flames you should leave the area immediately by driving away from the fire. Do not wait to see what happens," he said.
"If there is a lot of smoke, slow down and be aware. There could be people, vehicles, and livestock on the road. Turn your car headlights on and close windows and outside vents."
Remember that being prepared rather than alarmed is the key to enjoying your break. We wish all BIG4 guests a happy and safe time when on the road during the bushfire season.
Reproduced with the permission of BIG4 Holiday Parks. This article first appeared on BIG4.com.au  and was republished with permission.
Important:
Any information provided by the author detailed above is separate and external to our business and our Licensee. Neither our business nor our Licensee takes any responsibility for any action or any service provided by the author.
Any links have been provided with permission for information purposes only and will take you to external websites, which are not connected to our company in any way. Note: Our company does not endorse and is not responsible for the accuracy of the contents/information contained within the linked site(s) accessible from this page