By the time we sit down for a sun-drenched lunch on Christmas Day, lounge rooms across the country are usually piled high with shreds of wrapping paper, screwed up gift tags and shattered plastic toys. Cue sunset and leftover prawns join soggy crackers, wilted salad and half-eaten lollies in the bin – all wrapped up on pictures of Santa in the plastic tablecloth. When you really think about it, that's a whole lot of money thrown away as non-recyclable rubbish.
With a few simple tips, it's possible to host a more eco-friendly Christmas that saves money and unnecessary waste, without skimping on festive cheer. 
1. Shop locally
Supporting local businesses helps to encourage a sustainable local economy. Best of all, you'll often find eco-friendly, organic products in specialty stores that are unique and handmade with love. Before the big day, buy your fresh food from the farmers' markets and stock up on homemade goodies – or make them – instead of packaged treats from the supermarket. 
2. Choose gifts that last
We're all subject to that last-minute rush of buying gifts and the panic that comes with it. Plan a little earlier this year to avoid grabbing shiny things off the shelves to fill stockings. Instead, choose gifts that last or offer experiences. Consider items like houseplants, reusable coffee mugs, wooden games and puzzles or handmade gifts of food, natural beauty products and candles. Buy your loved ones tickets to a concert, lessons in a favourite hobby or make your own gift certificate for a service you'll do for them. 
3. Rethink wrapping
Wrapping paper is one of the biggest sources of waste each year, so pop that sparkly new roll back down and consider other options. Start collecting reusable gift boxes, use festive scraps of old material, make brown recycled paper look fancy with your craft skills or wrap a gift inside another gift of a scarf or shirt. 
4. Decorate with nature
If you have toddlers, cats or even guests who've had one too many beers in the sun, plastic Christmas trees and fragile decorations may not survive to see the next one. Keep it green by sourcing a tree from sustainable forestry systems. Or, simply buy a potted shrub or tree with the aim to replant it after the celebrations. Use pine cones, frangipanis, nuts, fruit or twisty twigs for table displays. It's amazing what you can find in the backyard when you look closely.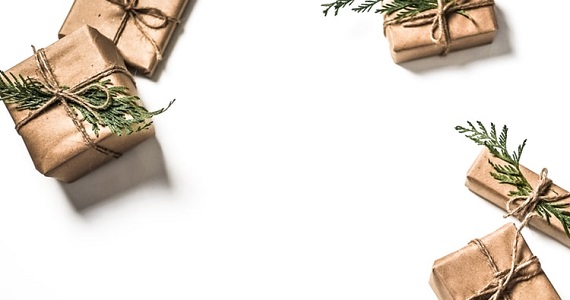 5. Create a meal plan
There's nothing worse than hosting a celebration and feeling like you won't have enough food for everyone. But, seriously, has that ever happened on Christmas Day? To avoid wastage, write a list and allocate just one dish to each person or family, in categories so that everything's covered but not repeated. That way, you won't end up with five pavlovas.
6. Donate unwanted gifts
It's hard to buy the perfect gift, and many of them end up in the back of the cupboard. Take the opportunity to give back by donating gifts to a charity or regifting them to someone who wants them (it's not a social taboo, it's a form of recycling!). 
Every little bit helps in the long run, towards a sustainable future. Plus, you'll find there's a lot less cleaning up and a lot more money left in your wallet heading into the new year. 
This provides general information and hasn't taken your circumstances into account. Any links have been provided with permission for information purposes only and will take you to external websites, which are not connected to our company in any way. Note: Our company does not endorse and is not responsible for the accuracy of the contents/information contained within the linked site(s) accessible from this page.