Key points:
If you have been allocated a Home Care Package, the Government will subsidy the cost of home care services for you

The rates are usually adjusted in March and September with the age pension

You cannot receive Government funding for any home care services that are provided by a private organisation
No matter the level of your Home Care Package (HCP), the Government will pay your approved provider a subsidy to go towards the cost of your care.
Of course, this can depend on your current income and assets, which will be calculated when you have an assessment with an Aged Care Assessment Team/Service (ACAT/S).
If you are ineligible for a Government funded aged care service, private home care services may be your next best option.
Who pays for CHSP services?
The Commonwealth Home Support Programme (CHSP) is subsidised by the Federal Government. But similar to Home Care Packages, you are expected to pay towards the cost of your care if you can afford to do so.
There is a fee for each service delivered under the CHSP and the amount you contribute depends on your income and the type and number of services you require.
You and your service provider will discuss and agree on the rate before you receive any services. So the amount you pay can differ from provider to provider.
Depending on the provider you approach, you may be charged a set fee for any services they provide you or some organisations may ask for a voluntary donation or charge a membership or subscription fee.
If you have one or more service providers that you receive multiple services from and those services overlap, you may be able to 'bundle' the cost of these services.
Contact your service provider to find out specific costs. It can be a good idea to get a quote from a few different providers you are interested in.
How much will it cost for care?
The Government covers most of the cost of care but depending on your income, your provider may ask you to contribute towards the cost of delivering your services.
Recently, the Government changed the HCP daily subsidy and maximum basic daily fee system. Now, the higher the package level, the higher the subsidy from the Commonwealth.
The Government contributes the following amounts to each person receiving a Home Care Package (20 September 2020 rates):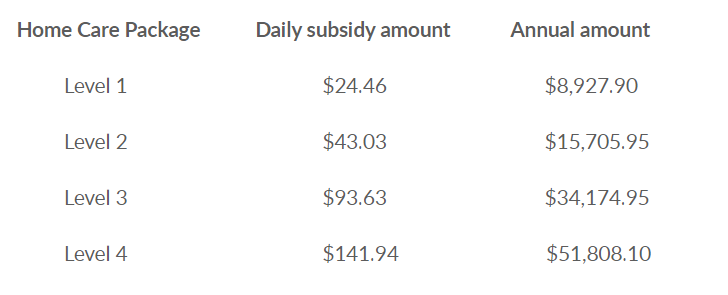 Rates are reviewed in March and September each year in line with changes to the Age Pension. This applies to each person receiving a Home Care Package, even if you are part of a couple.
If you require high care or have specialised support needs, you may be eligible for additional supplements, like Veteran's, dementia or housing supplement, this will be added to your subsidy amount.
The funding from the Government will go directly to your provider, who will then spend your funding on services you agreed to in your Care Recipient Agreement.
Once you start receiving services, you will receive a monthly statement from your provider of income, expenditure and the balance of your Home Care Package funds.
How much should I expect to pay?
A provider may charge the maximum basic fee for a Home Care Package, which depends upon what level HCP you received (20 September 2020 rates):

People on higher incomes than the Age Pension may be required to pay extra.
The maximum amount you may be asked to pay above the basic fee is up to 50 percent of your income above the Age Pension amount of $860.60 per fortnight for a single person (as of 20 September 2020).
The maximum amount you may be required to pay depends on your income and unavoidable expenses, such as pharmaceutical bills, rent, utilities and other living expenses.
You need to negotiate the costs with your provider. These costs will be agreed upon and fixed in your agreement before you receive any aged care services. This is your legal agreement with your service provider.
No full pensioner will pay an income tested care fee and no part pensioner will pay an income tested care fee greater than $5,617.47 per annum (20 September 2020 rates).
If you have an income of more than $53,731.60, you will pay an income tested care fee on a sliding scale up to a total of $11,234.96 per annum.
However, no one will pay more than $67,409.85 in an income tested care fee over their lifetime (20 September 2020 rates).
Your assets, including the family home, are excluded from the means testing arrangements for home care.
Use our home care package fee estimator to help you work out how much you may be asked to contribute to your Home Care Package. Or search on the AgedCareGuide.com.au directory for a home care service that meets your needs.
It can be a good idea to contact My Aged Care on 1800 200 422 to see if you are eligible for additional benefits depending on your personal circumstances.
​Private home care and costs
Some people decide to utilise private home care providers rather than a Government funded home care service.
This could be for a number of reasons, for example, you may not be eligible for a HCP or you don't want to wait for care.
However, if you decide to approach a private home care provider, you will not be able to receive a Government subsidy for the care services.
It's important you understand the costs and fees involved with engaging a private home care provider before you make a decision.
This article was originally published on AgedCareGuide.com.au  Reproduced with permission of DPS Publishing.
Important: This provides general information and hasn't taken your circumstances into account.  It's important to consider your particular circumstances before deciding what's right for you. Although the information is from sources considered reliable, we do not guarantee that it is accurate or complete. You should not rely upon it and should seek qualified advice before making any investment decision. Except where liability under any statute cannot be excluded, we do not accept any liability (whether under contract, tort or otherwise) for any resulting loss or damage of the reader or any other person. 
Any information provided by the author detailed above is separate and external to our business and our Licensee. Neither our business nor our Licensee takes any responsibility for any action or any service provided by the author. Any links have been provided with permission for information purposes only and will take you to external websites, which are not connected to our company in any way. Note: Our company does not endorse and is not responsible for the accuracy of the contents/information contained within the linked site(s) accessible from this page.