Your parents weren't kidding when they said breakfast is the most important meal of the day. Whether you enjoy it sweet or savory, hot or cold, earlier or later, there are a few non-negotiables you should be including. But the first step is eating your food mindfully. Mornings can be busy; getting the kids ready for school, rushing off to work, trying to fit in a workout and a quick load of washing – but taking an extra 5 minutes to sit down and eat your breakfast is one of the best things you can do to aid digestion of your meal.
Our good friend Dr. Libby even believes that this might just be the most important meal of the day. It doesn't matter if you're an early riser or an intermittent faster, fuelling your body with the right kinds of foods from the get-go is so important. And if you're including good-quality, slow-burning foods, this meal will see you all the way till lunchtime – without the heavy snacking.
If you're building a smoothie bowl or a hearty plate of whole foods, there's a formula that we love to follow. It involves a balance of macronutrients (we're talking healthy fats, complex carbohydrates, and good sources of protein), coupled with some micronutrient-rich superfoods. Your macro balance will be unique to your body's needs, so if you have specific dietary goals in mind we recommend reaching out to a qualified professional. The most important thing is to reach for healthy, good-quality sources. We're not interested in ruling out any food groups unless there's a specific intolerance. In fact, having a breakfast that is largely made up of proteins, healthy fats, and micronutrient-rich complex carbohydrates (while limiting your intake of refined carbohydrates) can aid in both brain function and weight loss. Tucking into a delicious, balanced breakfast is also vital in balancing blood sugar levels for both managing and preventing diabetes, and done right, it can also be a good source of dietary fiber.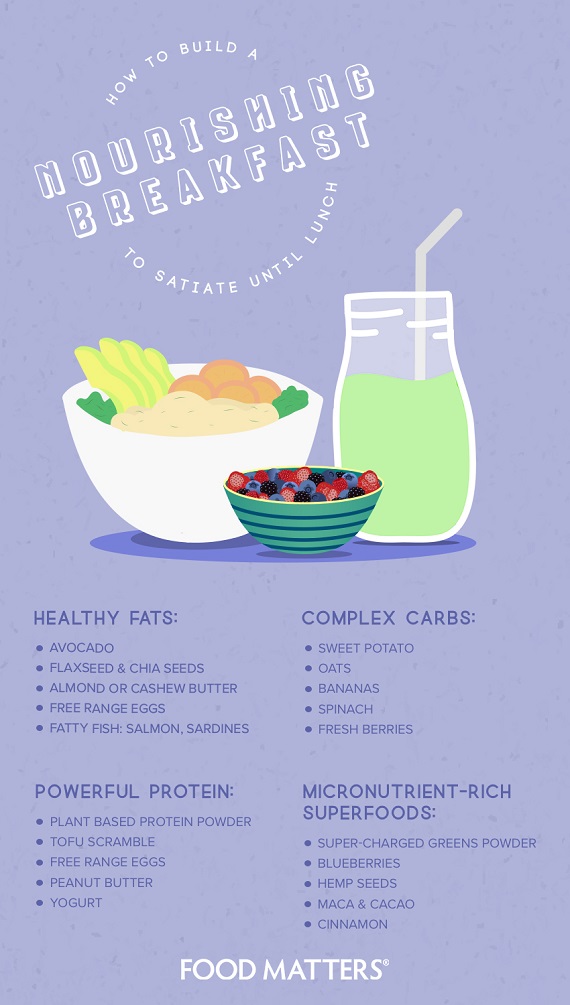 Here's why these are our four pillars of a well-built, nourishing breakfast. So read away and set yourself up for a nourishing day…
Help Yourself To Some Healthy Fats:
Fats are more than just deep-fried treats; not only are some good for us, they actually make up a vital part of our diet. Our bodies need them for brain function, long-lasting energy levels, and radiant hair, skin, and nails. Because they take longer for us to break-down, the energy they give provides for us when we're depleted of carbohydrates. However, we only need a small portion to meet generic daily requirements. They're that easy to throw on as an afterthought; a few of our favorites are avocados, flaxseeds and chia seeds, almond or cashew butter, free-range eggs, and fatty fishes like salmon, mackerel, and sardines. All of these foods contribute to a balanced intake of omega-3s – which is something the standard diet is often deficient in!
Cram In The Complex Carbohydrates:
Popular diets have made us a population fearful of carbohydrates, but it's really not as simple as that. Carbohydrates come in all shapes and sizes, with the complex carbs often wearing the stigma of refined, bleached, heavily processed, and nutrient-poor carbs. Including carbs in your breakfast helps your body get the energy it needs for the beginning of the day. Vegetables, for example, are one amazing source of carbs – giving your body the much-needed glucose to carry out daily tasks, alongside an abundance of vitamins and minerals, and the all-important fiber. Fresh fruits are another wonderful source, although we recommend eating these first as many fruits shouldn't be combined with other foods as not to impair digestion. Some of the best (in our opinion) ones to squeeze into breakfast are sweet potato, oats, bananas, spinach, and fresh berries.
Plate Up The Proteins:
Proteins give us something different from the other macronutrients; they break down to amino acids, which become the building blocks of our bodies. Many people are often living with protein deficiencies, so breakfast is another great opportunity to work it into your diet in the best possible way. And because they take longer to break down than your carbs, they'll help to keep you feeling fuller for longer. Some of the best wholefoods sources that are perfect for breakfast are free-range eggs, peanut butter, yogurt, tofu scramble, or a good plant-based protein powder.
Make Sure You Have Micronutrient-Rich Superfoods:
We know a healthy, whole foods diet is more than balancing your macros. Vitamins and minerals are just as (if not more) important for your overall health and wellbeing, so it's important to make sure you're getting a dose with each meal. Some of the best ones you can include as a last-minute addition to your breakfast are blueberries, hemp seeds, maca & cacao blend, cinnamon, or an easy, supercharged greens powder. You can throw them in a smoothie or scatter them on top, but they'll promise to fill out that well-rounded breakfast bowl you just built.
Source : Foodmatters August 2020 
Reproduced with the permission of the Food Matters team. This article by TESS PATRICK was originally published at https://www.foodmatters.com/recipe/how-build-nourishing-breakfast-satiate-until-lunch
Important: Any information provided by the author detailed above is separate and external to our business and our Licensee. Neither our business nor our Licensee takes any responsibility for any action or any service provided by the author. Any links have been provided with permission for information purposes only and will take you to external websites, which are not connected to our company in any way. Note: Our company does not endorse and is not responsible for the accuracy of the contents/information contained within the linked site(s) accessible from this page.