Cooking and making fond family memories have always gone hand in hand: who didn't love waking up to the smells of grandma's lemon meringue pie or helping mum bake some choccie slice as a little one? Bringing families together for generations, try one of these classic and delicious Fairy recipes in your own home.
Nut-free super-seed oat bars
These easy to make nut-free bars – loaded with oats, sunflower and pepita seeds – are a healthy lunch box snack for the kids.
Prep: 25 mins
Cook: 25 mins
Servings: 24
Ingredients
125g Fairy Cooking, chopped

2/3 cup firmly packed brown sugar

2 cups rolled oats

1/2 cup self-raising flour

1 cup pepita seeds

3/4 cup sunflower seeds

1 tsp ground cinnamon

2 tsp vanilla essence

1 egg, lightly beaten

50g dark chocolate, melted
Method
Preheat the fan-forced oven to 160°C. Grease and line a 30x20cm slice tin with baking paper, leaving a 2cm overhang. Melt the Fairy Cooking in the microwave on high or in a saucepan until fully melted.

In a large bowl combine the sugar, oats, flour, seeds and cinnamon. Add the vanilla, egg and melted Fairy Cooking and combine well. Press the mixture into the tin.

Bake for 25 minutes, or until golden brown and firm. Cool completely in the tin. Remove from the tin and drizzle with the melted chocolate and set for 10 minutes in the fridge. Slice into 24 bars to serve.
Tip: These bars will keep for up to one week in an airtight container.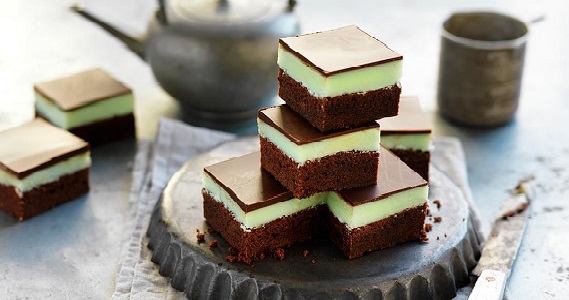 Choc-mint brownie slice
A gorgeously rich chocolate brownie base with a light mint filling is perfect for an afternoon delight to share with friends and family.
Prep: 30 mins
Cook: 30 mins
Servings: 15
Ingredients
Brownie base
250g Fairy Cooking, chopped

50g dark chocolate, chopped

1 cup caster sugar

1/2 cup firmly packed brown sugar

4 eggs

3/4 cup plain flour

1/4 cup cocoa powder
Peppermint cream
3/4 cup Copha, chopped

3 cups icing sugar mixture, sifted

1/4 cup milk

1 tsp peppermint extract

3-4 drops green food colouring
Chocolate topping
150g dark chocolate, chopped

1/3 cup Copha, chopped
Method
Brownie base
Preheat the fan-forced oven to 180°C. Grease and line a 20x30cm slice tin. In a large heatproof bowl, combine Fairy Cooking and chocolate. Place the bowl over a saucepan of lightly simmering water. Stir occasionally until melted. Remove from heat.

Place the sugars, eggs, flour and cocoa in a large bowl, add the Fairy mixture and mix to combine. Pour in the tin and bake for 30 minutes, the centre should still be moist.

Set aside to cool for 15 minutes.
Peppermint cream
Melt Copha in a medium saucepan over low heat. Add the icing sugar and mix well to combine. Stir in the milk and peppermint, then carefully add drops of food colouring until desired colour.

Pour over the brownie slice while still warm. Allow to set for 5 minutes.
Chocolate topping
In a medium heatproof bowl, combine the chocolate and Copha. Place the bowl over a saucepan of lightly simmering water. Stir occasionally until melted. Remove from heat.

Pour the chocolate over the peppermint, tilt to cover and put in the fridge to set for 10 minutes. Slice into 15 squares.
Tip: You can leave out the food colouring if you prefer a white mint slice.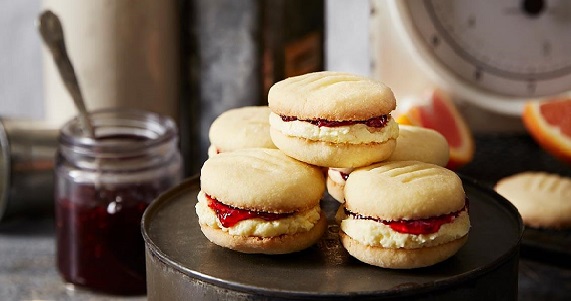 Melting moments
Melt with glee the moment you bite into one of these rich, fine-textured biscuits with a sweet orange filling.
Prep: 20 mins
Cook: 12 mins
Serves: 10 biscuits
Ingredients
Biscuits
1/2 block Fairy Cooking, softened

1/2 cup icing sugar, sifted

1/2 teaspoon vanilla essence

1/2 cup cornflour, sifted

2/3 cup plain flour, sifted
Orange cream
1/4 block Fairy Cooking, softened

1 cup icing sugar, sifted

1 tsp grated orange rind

1/2 tablespoon orange juice

Raspberry jam to serve

Icing sugar to dust
Method
Biscuits
Preheat the oven to 160°C. Line baking trays with baking paper.

Cream Fairy, icing sugar and vanilla together until light and fluffy. Add cornflour and flour and mix well.

Roll heaped teaspoons of mixture into balls and place on the prepared trays. Flatten with the back of a fork to make an indent.

Bake in the oven for 10 to 12 minutes until golden.
Orange cream
Beat the Fairy until smooth. Gradually add icing sugar. Beat until light and creamy.

Add the rind and juice and beat until combined.
Assembly
Sandwich two biscuits together with the orange filling and some raspberry jam.

Dust with icing sugar.
What is Fairy?
Fairy has been helping create magic in the kitchen for more than 90 years. Developed in the 1930s, it quickly became popular with busy families who wanted a fail-proof, traditional margarine for home baking and cooking. From birthday parties to baking special treats with mum or grandma, Fairy has always been associated with making sweet childhood memories, and can be found at Coles, Woolworths and your local independent store.
 Source : Holidayswithkids August 2020 
Important: Any information provided by the author detailed above is separate and external to our business and our Licensee. Neither our business nor our Licensee takes any responsibility for any action or any service provided by the author. Any links have been provided with permission for information purposes only and will take you to external websites, which are not connected to our company in any way. Note: Our company does not endorse and is not responsible for the accuracy of the contents/information contained within the linked site(s) accessible from this page.