How would you like to laze on one of the world's best beaches for your next getaway? Voters in this year's TripAdvisor Travellers' Choice Awards ranked Australia's Manly and Surfers Paradise beaches among the top 25. However, it's these five dazzling stretches of sand that won the most sun-loving hearts.
5. Grace Bay Beach, Turks and Caicos
The poster child of the Turks and Caicos, Grace Bay often plays a starring role when it comes to the world's best beaches. This tropical heaven is just a short flight from Florida and features easy access for boat trips to explore its barrier reef and incredible wall dives. Back on the beach, water sports take centre stage, with parasailing, banana boating and kayaking on a backdrop of pearly white sand and azure water. In terms of accommodation, take your pick of luxury resorts on the island of Providenciales, surrounded by world-class restaurants, shopping plazas and that all-important, easy-going vibe.
4. La Concha Beach, Spain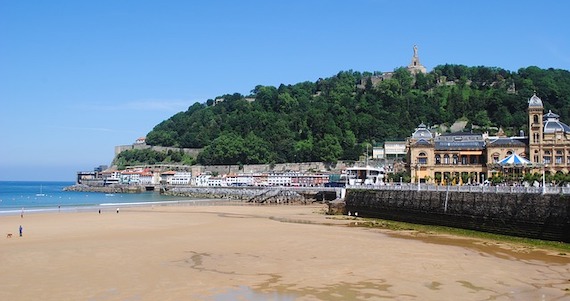 As far as city beaches go, San Sebastian's La Concha certainly makes a sensory impact. The shell-shaped Concha Bay sets the scene for a diverse landscape including lush mountains and the city's elegant architecture, like Miramar Palace. Find your own perch on the beach under a blue and white striped umbrella, to soak up the cosmopolitan atmosphere and indulge in people-watching. When hunger strikes, San Sebastian just happens to be one of the world's foodie capitals, and nothing goes better with sun and sea than seafood tapas and sangria.
3. Eagle Beach, Aruba
With powder-soft sand that stretches on and on, Aruba's Eagle Beach is often singled out as among the most beautiful in the Caribbean. Although you'll find a holiday buzz along its sparkling shores, this is a low-rise hotel area with plenty of charming boutiques for a truly relaxing escape. Combine lazy days with turtle nest-spotting, photographing the iconic divi-divi trees and sipping cocktails at breezy beach bars. From here, it's a quick taxi or bus ride to Oranjestad, the vibrant capital of the Dutch island.
2. Varadero Beach, Cuba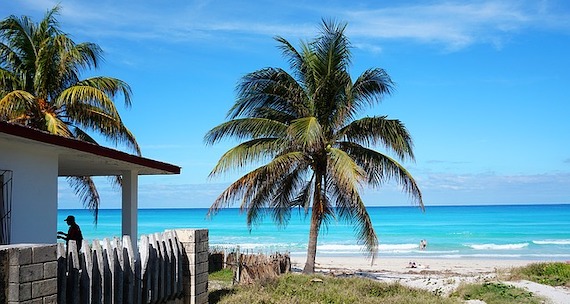 Varadero combines art galleries, markets, cigar shops and cabarets for a taste of Cuban culture, with the country's premier beach destination. All-inclusive hotels, spas and restaurants line a spectacular, 20 kilometre stretch of uninterrupted white sand for a sun-drenched holiday. Sailing, glass-bottom boat rides and diving are at the top of the agenda, along with a round of golf or two. As the sun sets, a festive nightlife scene ensures you can get your fix of live music and salsa dancing.
1. Baia Do Sancho, Brazil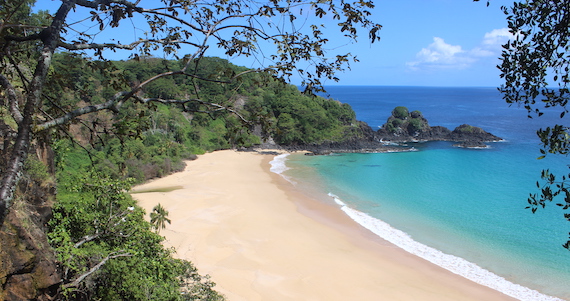 It's not that easy to get to this year's most-loved beach, which is perhaps part of the appeal for TripAdvisor voters. That and the fact that Baia do Sancho is a sheltered cove of glittering turquoise water and golden sand, wrapped in lush, forest-clad cliffs, on a paradise island. Keen beach-goers must traverse near-vertical ladders through a rock tunnel to feel that silky sand squishing underfoot, dive into the azure sea and enjoy the absence of crowds so often found on such slices of paradise.
You can count on it staying this way too, as the volcanic islands of Brazil's Fernando de Noronha archipelago are part of a protected UNESCO World Heritage Site, with limited visitor access and an environmental fee to explore. To get there, the main island offers a small airport, with flights available from Recife and Natal.
Other beaches in the top 10 include Florida's Clearwater, Spiaggia dei Conigli in Sicily, Grand Cayman's Seven Mile Beach, Playa Norte on Mexico's Isla Mujeres and that other famous Seven Mile Beach, in Jamaica. With so many inspirational shores to discover, it's always a good time to pack the sunscreen and jet off to paradise.
Important:
This provides general information and hasn't taken your circumstances into account. Any links have been provided with permission for information purposes only and will take you to external websites, which are not connected to our company in any way. Note: Our company does not endorse and is not responsible for the accuracy of the contents/information contained within the linked site(s) accessible from this page.